CURALOE GEL
October 4, 2022

Aqura Moisturizing Cream
October 4, 2022
AQURA MOISTURISING LOTION
₨ 580
Aqura ML is indicated in all kinds of dry skin conditions like Atopic eczema, contact dermatitis,
Senile pruritus, ichthyosis, xerosis, psoriasis.
Aqura is a Hypoallergenic, enriched moisturizing lotion that contains natural lipids similar to the skin's physiological lipids in
DMS (Derma Membrane Structure); is a structure similar to the skin, hence revitalizing the skin.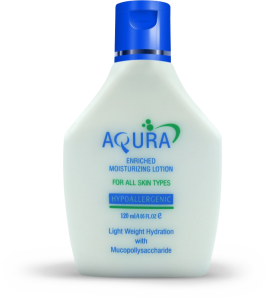 AQURA ML contains natural lipids similar to the skin's physiological lipids which are essential components of healthy skin.
They help to retain skin moisture, prevent skin dryness and provide protection against environmental triggers.
The unique formula of AQURA ML contains no colorants, perfume and preservatives to enhance its hypoallergenic effect.
Reduces Trans Epidermal Water Loss
Skin Friendly pH
Rapid & Superior long lasting hydration
Recommended Use:
Aqura ML can be used twice to thrice daily or may be used more often. Ideal for the entire body.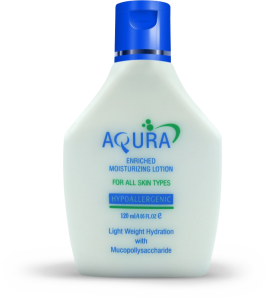 1Are these products tried and tested?
Yes, all the products on LARC store are dermatologically tested and verified as safe for all skin and hair types.
2How long do I can use these products?
All the skincare and hair care products at LARC store are formulated to be used in every day routine. So it's completely safe to use these products for a long-term use.
3How can I order these products?
You can order our products online and they are also available at our clinics for over the counter purchase.
| | |
| --- | --- |
| Dimensions | 15 × 25 × 55 cm |
| Weight | 120ml |