CLARIPEX BAR
October 3, 2022

AQURA MOISTURISING LOTION
October 4, 2022
CURALOE GEL
₨ 670
Curaloe Gel is indicated during and after all laser treatments, Post IPL, Steroid induced atrophy, radiation-induced dermatitis, threading & waxing.
Curaloe gel provides immediate relief from redness, itching, erythema, etc.
A Novel Blend of Aloe vera extract, Allantoin & Olive oil with Instant cooling & soothing Effect.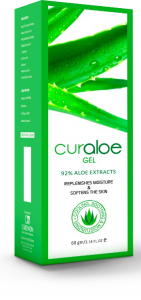 Aloe vera is a cactus plant that belongs to the Liliaceae family. It grows in dry climates such as those found in parts of Africa and India, Pakistan and has been used medicinally for centuries. Aloe leaves secrete a clear gel that when broken off from the rest of the plant that can be applied topically to heal wounds and soothe skin.
Apply Curaloe Gel thoroughly on the affected area till the complete absorption. Apply 2-3 times a day or as directed by the physician.
Recommended Use:
Curaloe Gel can be used twice a day. Being in gel form it has the beauty of self drying effect.
Curaloe gel can be used to make the skin shine and glow.

1Are these products tried and tested?
Yes, all the products on LARC store are dermatologically tested and verified as safe for all skin and hair types.
2How long do I can use these products?
All the skincare and hair care products at LARC store are formulated to be used in every day routine. So it's completely safe to use these products for a long-term use.
3How can I order these products?
You can order our products online and they are also available at our clinics for over the counter purchase.
| | |
| --- | --- |
| Dimensions | 15 × 25 × 55 cm |
| Weight | 60gm |