CLARIPEX CLEANSER
September 28, 2022

CARPHIN CREAM
October 3, 2022
REVALAY CREAM
₨ 1,390
A scientifically developed Anti-aging cream to prevent and reverse wrinkles by reducing facial muscle contraction, which causes deep lines.
Special Note:
For more good results of skin rejuvenation and Skin lightening,  use Claripex cream and Revalay cream together by mixing some portion of both the tubes on the palm and then apply onto the skin twice daily.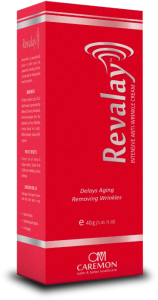 Revalay cream contains Hyaluronic acid as an active ingredient. Revalay can be prescribed as a home remedy to patients after facial procedural interventions as Revalay intelligently nourishes and rejuvenates the skin and quickly brings the skin back to normal by reducing facial muscle contraction.
Recommended Use:
Revalay cream can be used twice daily for its anti-aging effect, and removal of fine lines and wrinkles.
Revalay nourishes the skin and rejuvenates

1Are these products tried and tested?
Yes, all the products on LARC store are dermatologically tested and verified as safe for all skin and hair types.
2How long do I can use these products?
All the skincare and hair care products at LARC store are formulated to be used in every day routine. So it's completely safe to use these products for a long-term use.
3How can I order these products?
You can order our products online and they are also available at our clinics for over the counter purchase.
| | |
| --- | --- |
| Dimensions | 15 × 25 × 55 cm |
| Weight | 40gm |