AQURA MOISTURISING LOTION
October 4, 2022

Aqura Moisturising Bar
October 4, 2022
Aqura Moisturizing Cream
₨ 480
Aqura cream is indicated in all kinds of dry skin conditions like Atopic eczema, contact dermatitis, Senile pruritus, ichthyosis, xerosis, and psoriasis.
A premium emollient experience for dry, sensitive skin by protecting against moisture loss.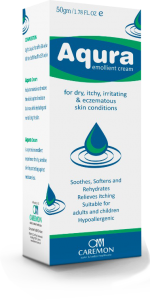 Extensively researched ingredients to provide added benefits
Hypo allergic; to ensure gentleness & safety
Soothens, softens & re-hydrates dry and sensitive skin
pH 5.5 same as the acid mantle of the skin
Non-greasy & fragrance-free
Lanolin , paraben free
Convenient for frequent use
Recommended Use:
Aqura cream can be used twice to thrice a day depending upon the condition of dryness.
Maintains and restores the skin's optimal moisture balance. Hydrates and revitalizes the skin Soothes irritation and relieves itching.   

1Are these products tried and tested?
Yes, all the products on LARC store are dermatologically tested and verified as safe for all skin and hair types.
2How long do I can use these products?
All the skincare and hair care products at LARC store are formulated to be used in every day routine. So it's completely safe to use these products for a long-term use.
3How can I order these products?
You can order our products online and they are also available at our clinics for over the counter purchase.
| | |
| --- | --- |
| Dimensions | 15 × 25 × 55 cm |
| Weight | 60gm |