Acnipex Cleanser
October 4, 2022

Sebtus Shampoo
October 5, 2022
Clearac Gel
₨ 560
Acnipex is a very effective dermatological cleanser for oily, seborrhea & Acne prone skin. A deep pore Cleanser for oily skin Cleanses, soothes & softens the skin without harming skin's normal pH balance.
Non comedogenic and non irritating
Minimizes sebum levels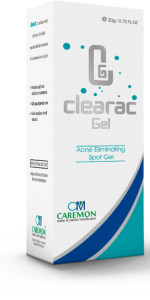 It quickly treats acne.
Kills papulopustular acne
Significant reduction in comedones
Superior in the reduction of inflammatory acne
Fast onset of action
Good compliance and well tolerated
Removes post acne scars
Recommended Use:
Clearac gel can be used as a spot gel to be applied on acne spots. Take a finger tip and use the gel about the size of a pea seed and apply it on acne. 

1Are these products tried and tested?
Yes, all the products on LARC store are dermatologically tested and verified as safe for all skin and hair types.
2How long do I can use these products?
All the skincare and hair care products at LARC store are formulated to be used in every day routine. So it's completely safe to use these products for a long-term use.
3How can I order these products?
You can order our products online and they are also available at our clinics for over the counter purchase.
| | |
| --- | --- |
| Dimensions | 15 × 25 × 55 cm |
| Weight | 20gm |